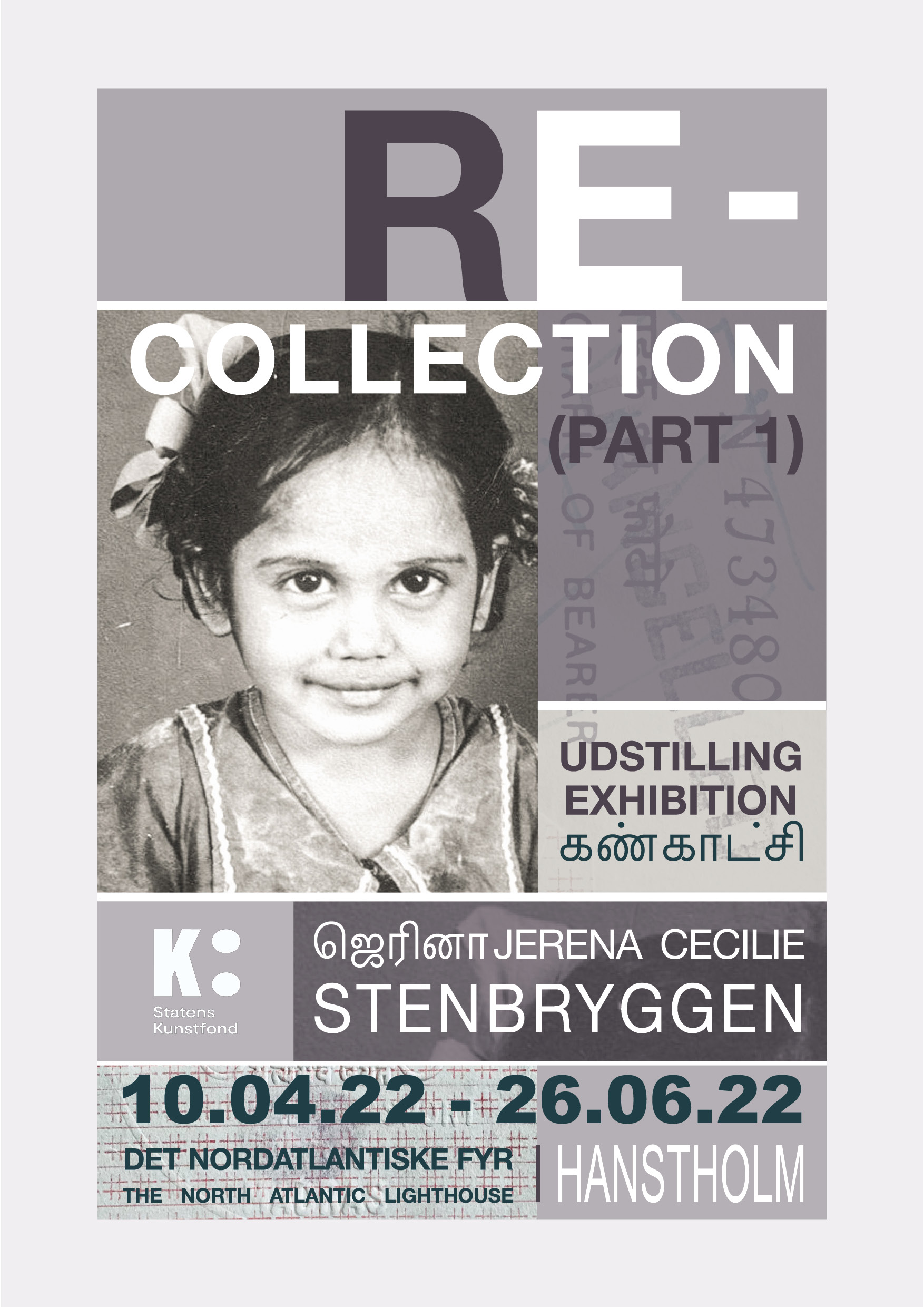 RE-COLLECTION (PART 1)
JERENA CECILIE STENBRYGGEN 
Med RE-COLLECTION (PART 1) tilbydes
kontemplative, dialogiske og poetiske
transitionspunkter for deling og heling
Udstillingen er skabt med udgangspunkt
i min egen fortælling om en 4-årig
polioramt piges rejse fra de sydindiske floder
til det kraftfulde Vesterhav i Nordjylland,
fra Nandi-tyren i Brihadeeshwarar-templet i Thanjavur
til Cimbrer-tyren på Vesterbro i Aalborg.
Rejsen gjorde det til et livsvilkår
ikke at kende min fulde livshistorie.
RE-COLLECTION (PART 1) er en fortælling
om at miste, om sorg, savn og sansning,
om naturens styrke
og den mellemmenneskelige omsorg,
om hvordan jeg i lyngen under nåletræerne
fornemmede samhørighed
og ubemærket indgik i en større fortælling.
Via værkerne får du mulighed for
at spejle dit eget liv
i en sydindisk piges blik og en "tilfældig nordjydes liv".
Med min nordjyske tone, min polioramte krop
og mit indiske udseende vil jeg uundgåeligt
indgå i diskursen om "den anden"
og generere spørgsmål om diversitet,
marginalisering, tilhørs- og tilknytningsforhold
i en lokal såvel som i en global kontekst.
Med RE-COLLECTION (PART 1) vil du kunne indgå
i en individuel såvel som i en kollektiv
delings- og helingsproces.
RE-COLLECTION (PART 1) offers you
contemplative, dialogical and poetic
transition points for sharing and healing.
The exhibition is based on my personal story
about the journey of a 4-year-old girl
with polio from the rivers of South India
to the powerful North Sea in the north of Jutland,
from the Nandi bull in the temple
of Brihadeeshwarar in Thanjavur
to the Cimbrian bull on Vesterbro in Aalborg.
This journey,
caused not knowing the complete story of my life,
to be an integral part om my existence.
RE-COLLECTION (PART 1) tells a story
of loss, sorrow longing and sensing,
of the power of nature and human compassion,
of how I in the heather under the conifers felt cohesion
and quitly became part of a larger narrative.
These works will allow you to reflect on your own life
through the eyes of a South Indian girl
and the life of "a northerner from Jutland".
With my characteristic Northern tone,
my polio-ridden body and my Indian appearance
I will unavoidably become a part of the discourse
of "the other" and spark questions about
diversity, marginalization and affiliation
within a local as well as a global perspective.
With RE-COLLECTION (PART 1) you can be a part
of an individual as well as a collective process
of sharing and healing.
Jerena Cecilie Stenbryggen
Instagram: @jerena_cecilie_stenbryggen  
Det
Nordatlantiske
Fyr i
Hanstholm